What are Activity Type Names?
Good xAPI activity definitions include a type that defines what type of thing the learner interacted with, whether it's a course, a question, a book, an event etc. This data can be used in Watershed to ask questions like "What type of content is most popular?" or to filter a report to only look at a particular type of activity.
But sometimes activity type names (also called "activity type labels") are not especially clear to end users who might not have a knowledge of xAPI. For example, e-learning course questions have an activity type of "cmi.interaction." The Activity Type Editor gives you the power to re-name these activity types.
Who can use this feature?
 User Roles

Global Admins can use this feature.

 Pricing 

Available on all plans.

 Expertise

Experts can use this feature.
How to Get to the Activity Type Editor
To get to the Activity Type Editor, choose the Edit Activity Types on the Activities page in the Data section.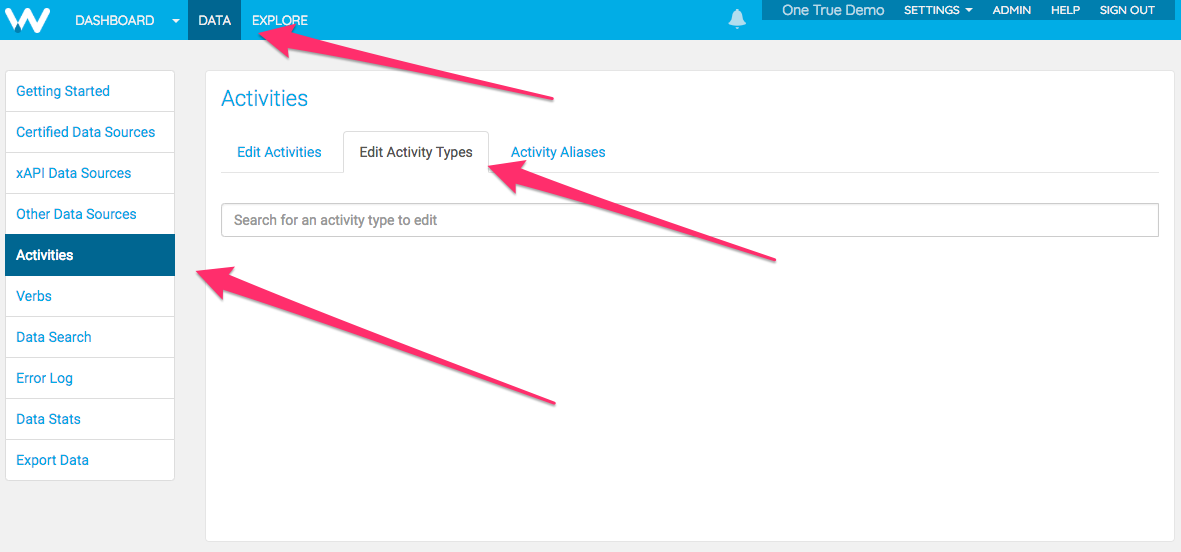 How to Edit an Activity Type Label
To edit an activity type, enter the name or id of the activity type in the search box and select the activity type you want to edit. In the below example, we're going to search for the "cmi.interaction" activity type.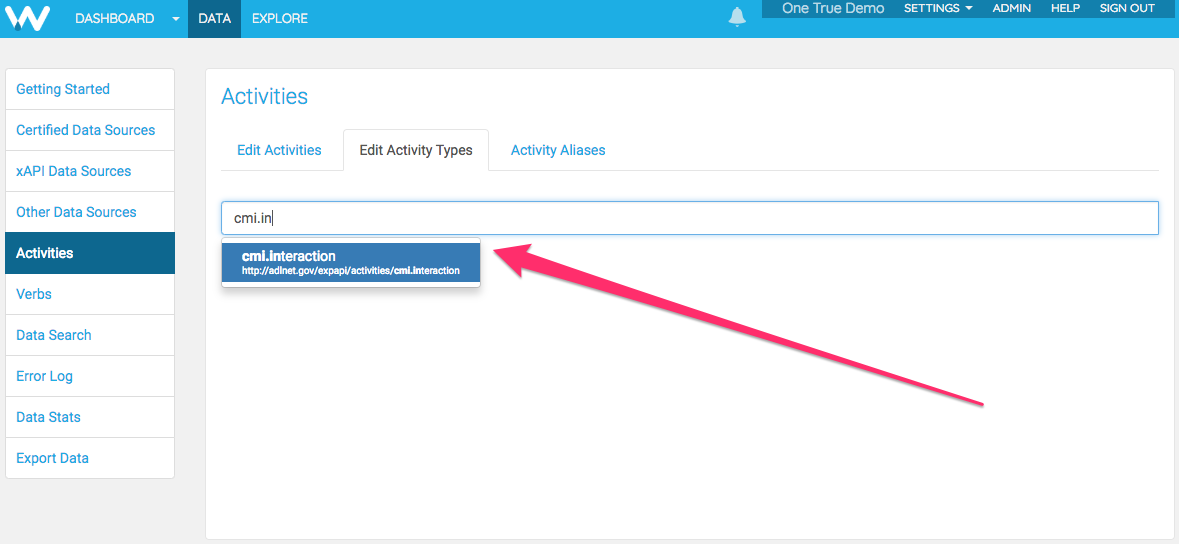 Once selected, you'll be on the Edit Activity Type page for that particular activity type. In the Name box, choose how you want that activity type to show everywhere in Watershed and click Save. In the below example, we are changing everywhere "cmi.interaction" is shown to "E-Learning Course Question."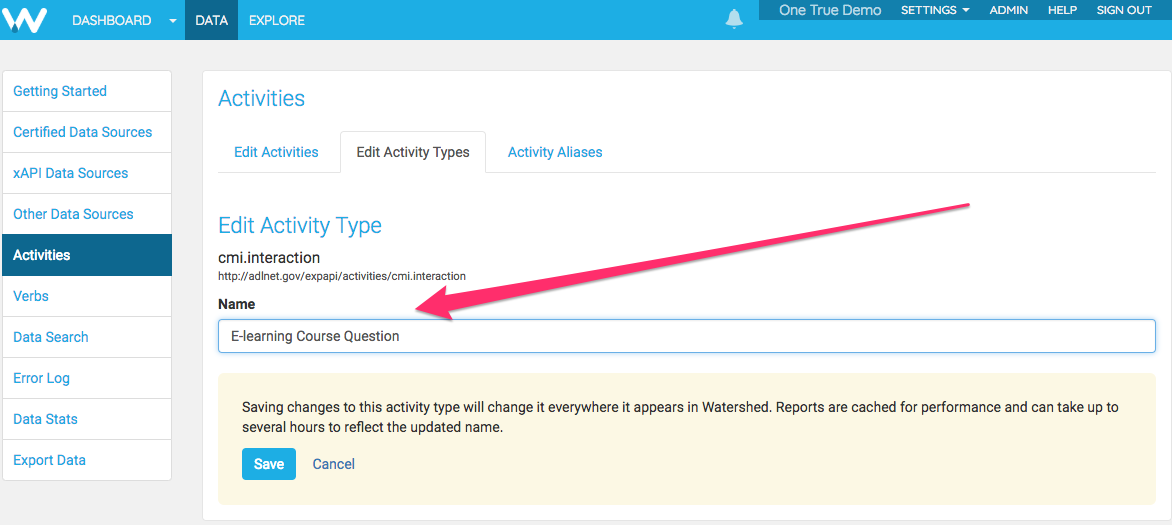 Please note: Saving changes to this activity type will change it everywhere it appears in Watershed. Reports are cached for performance and can take several hours to reflect the updated name.
Where are Activity Type Labels displayed?
Activity type labels are displayed in the Activity Type picker in Report Builder: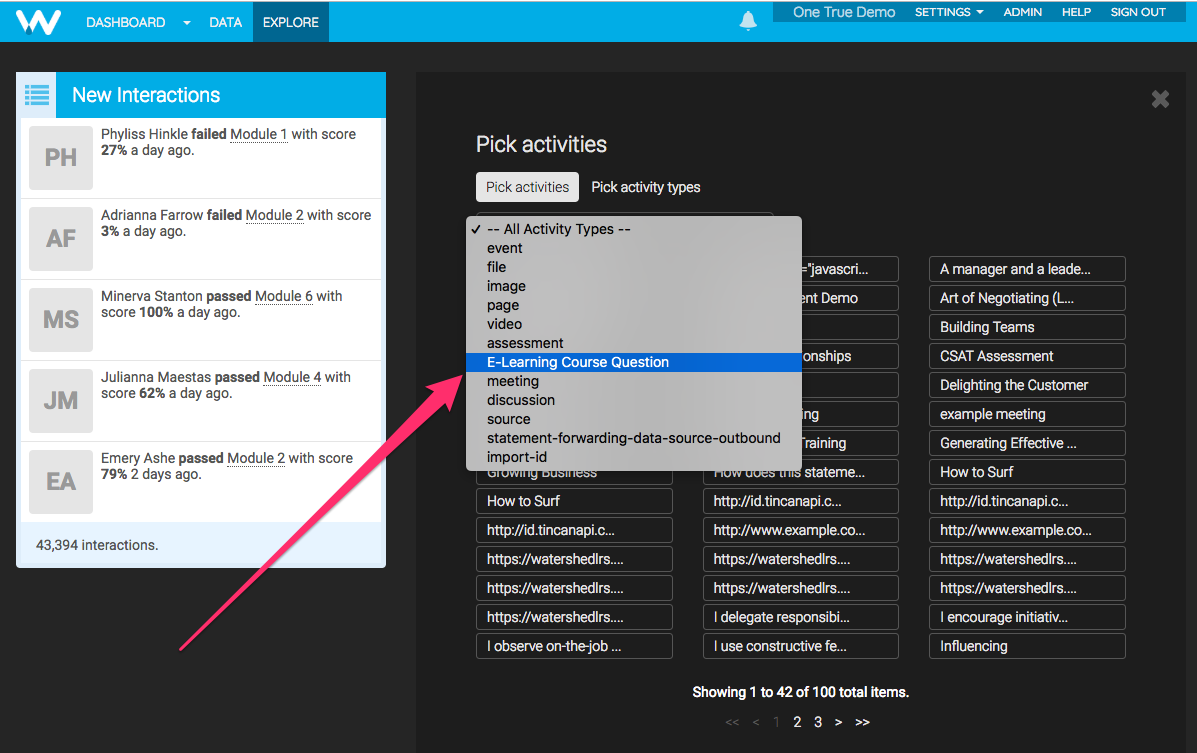 And in reports organized by Activity Type: