What is a Tableau Web Data Connector?
Tableau is a popular BI tool used for visualizing data. Watershed's Tableau Web Data Connector makes it easy to connect data aggregated by Watershed to Tableau such that you can fetch up to date data from Watershed simply by pressing a button in Tableau.
Who can use this feature?
 User Roles

Any user that can access a report (Global Admins, Area Admins, and Users) can set up a Tableau connection.

 Pricing 

Available on paid plans (Analyst, CLO, and Enterprise).

 Expertise

Experts can use this feature.
How to set up the connection
 Please note: The Tableau Web Data Connector exports tabular data so works best with the Leaderboard report type. However, the connector can be used with any measure-based report type (Correlation, Bar, Heatmap, Leaderboard, Line, Pie, Range, Scatter or Spider). It will not work with other report types.
To send data from a Watershed report to Tableau, first access the Share menu for that report. Click the gear icon from the dashboard view. Then click Share.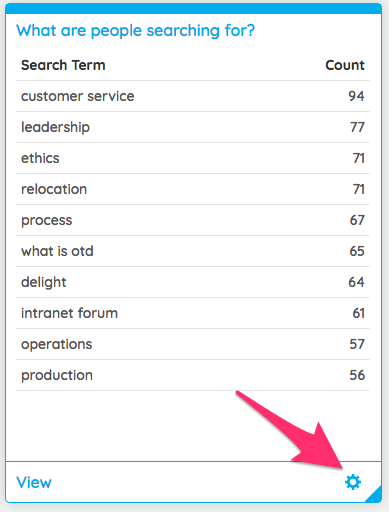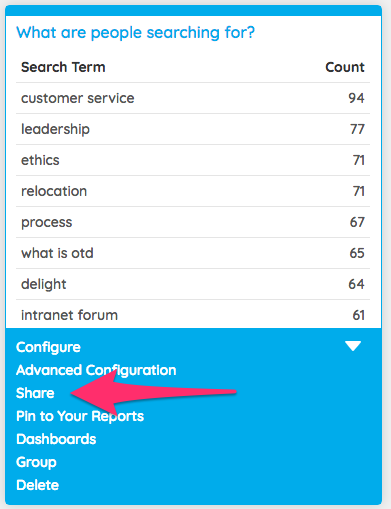 In the Share menu modal that opens, click Add Share to create a new share.

Share Data can be set to Snapshot or Realtime.
If the Share Data option is Snapshot, the data sent to Tableau via this Share will always look how it looks when this Share was created.
If the Share Data option is Realtime, the data sent to Tableau via this Share will match the data as is seen on the report at the time it's transferred. If you're looking to set up a report in Tableau that refreshes over time, choose Realtime.
For Share Access, select Require Watershed sign in if you would like this share to only be accessed by Watershed users who are signed in.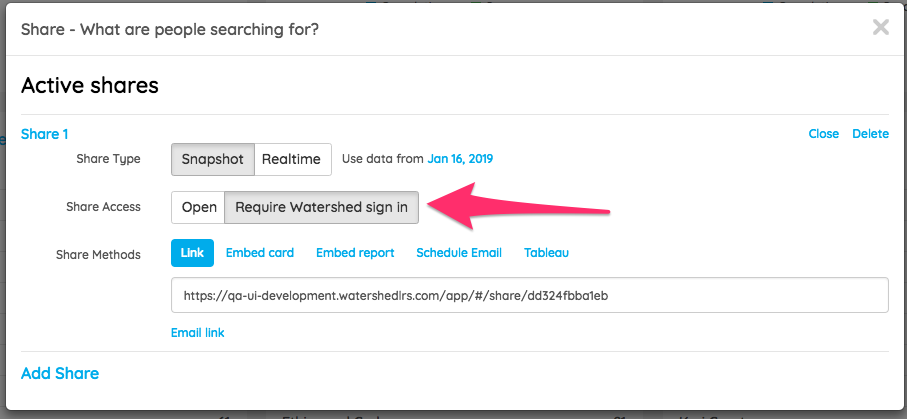 Select Tableau from the Share Methods to reveal the Tableau Web Connector URL. Copy this URL to your clipboard.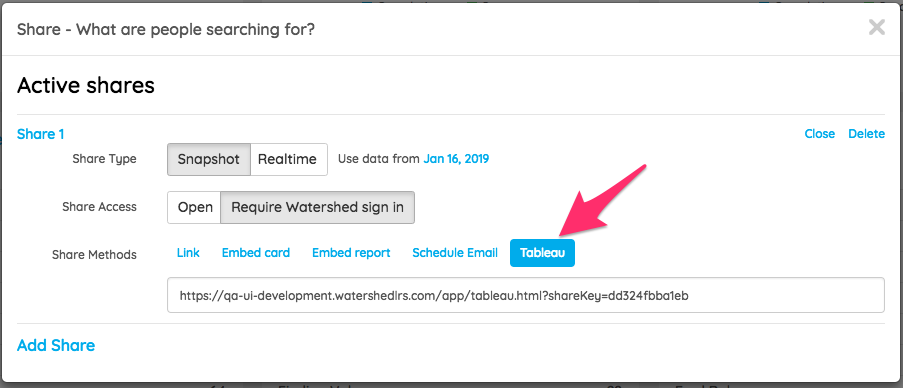 Paste the URL in your Tableau Web Connector interface and click Connect. If you selected Require Watershed sign in for Share Access, the connection will require authentication to connect this share's data.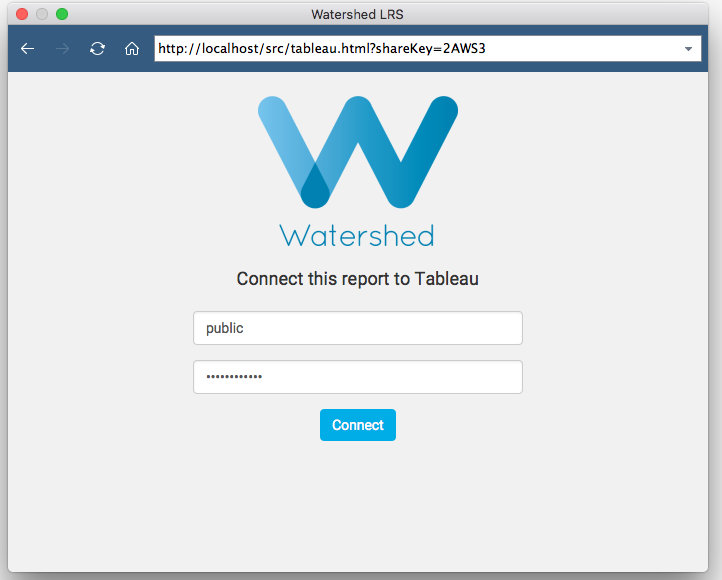 Tableau will display the title and column names from this share. Click Update Now to bring in the data.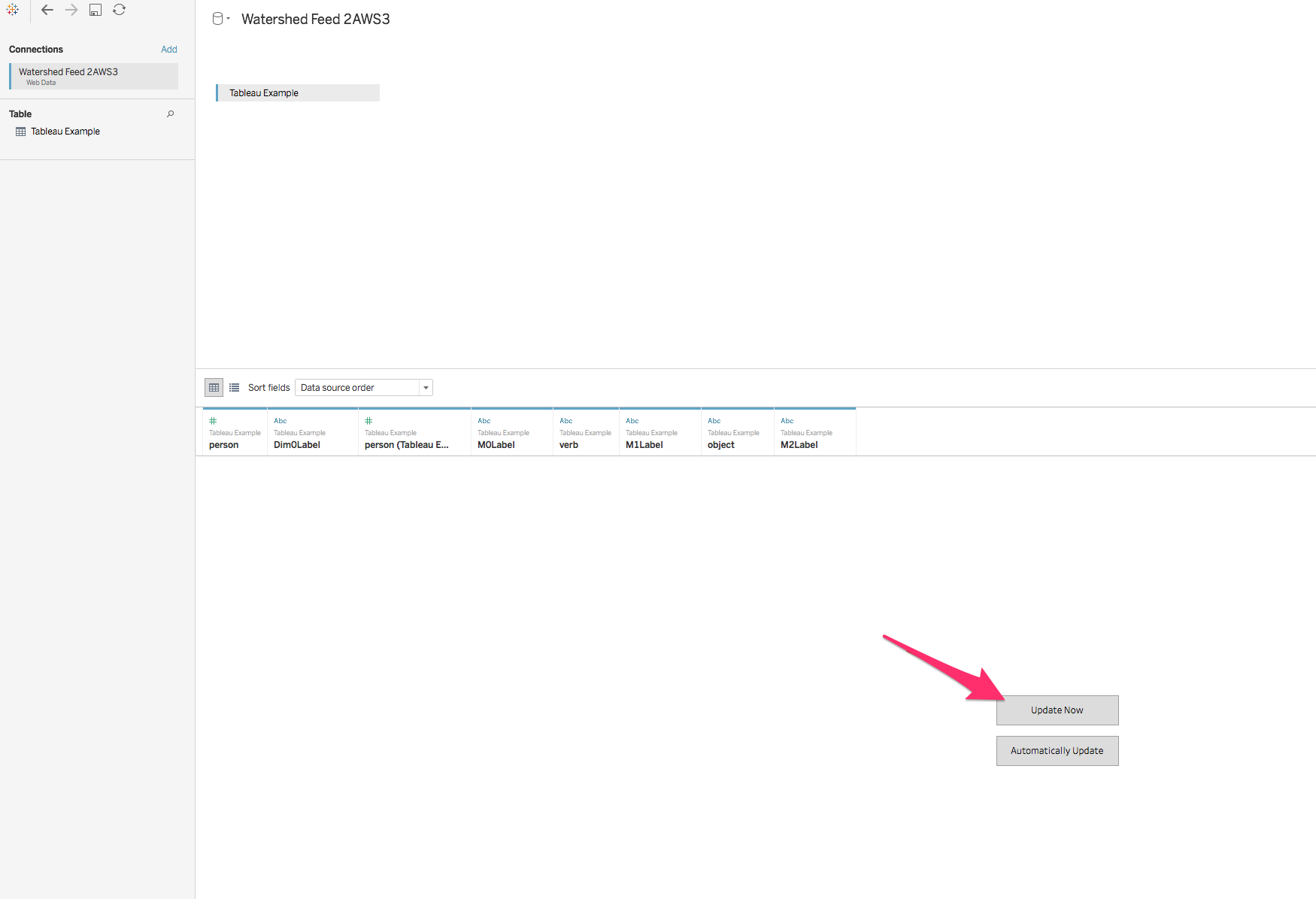 You should now see your Watershed data in Tableau.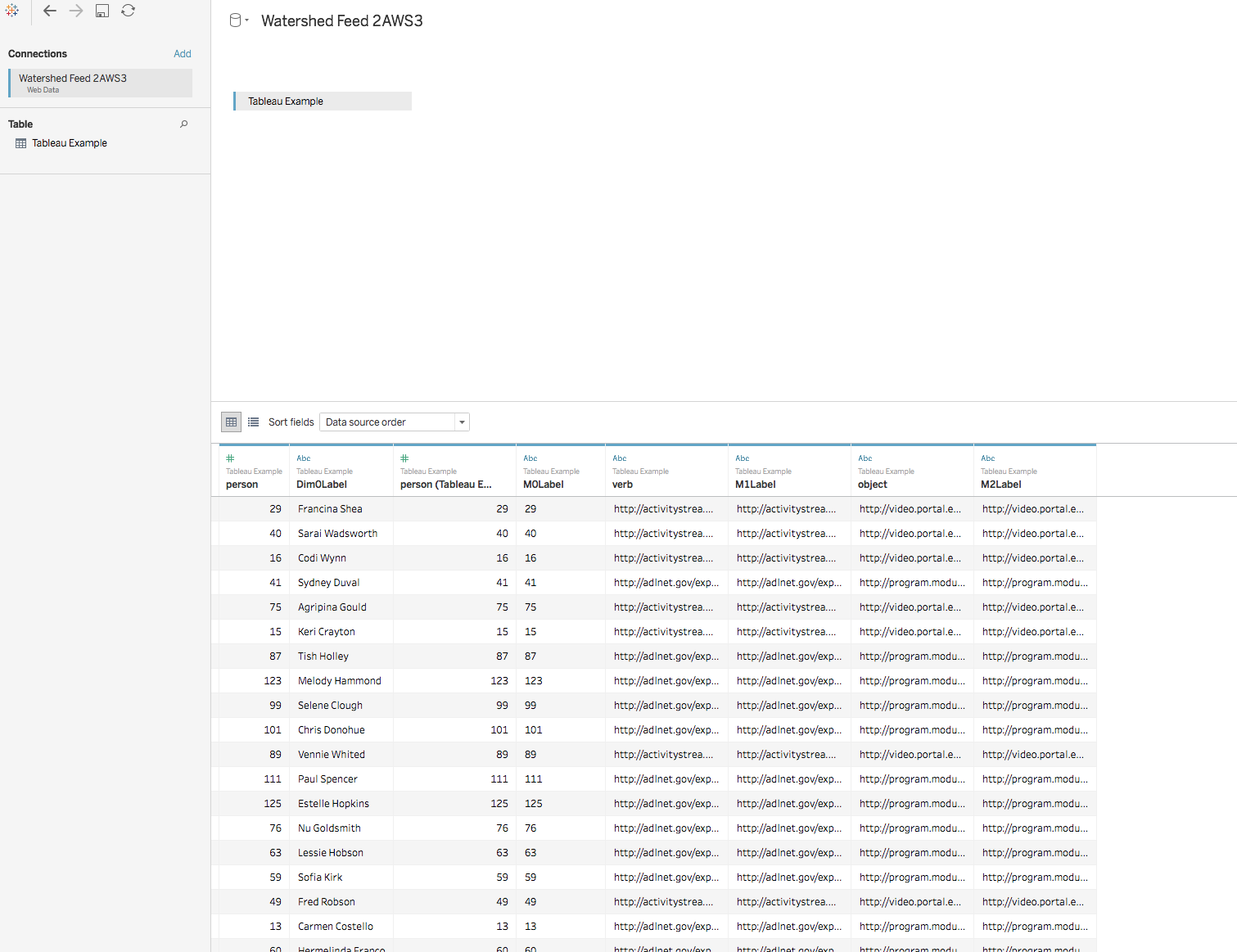 Important: Once you have set up a Tableau Web Data Connection, any configuration changes made to the report in Watershed (or if you delete the report) will break the connection and you will need to delete the connection and set it up again