Heads Up: This article is for Watershed's free product Watershed Essentials. If you're a paid client, please visit our main help section.
What is the Watershed Analytics Demo?
To help users visualize what they may be able to do once they have a learning record store (LRS) full of data, we've given you the option to play with a controlled demo environment of Watershed Learning Anytics Platform. The Watershed Analytics Demo contains a few different reports as well as the report builder (i.e., Explore). Before accessing the demo environment, you will be prompted to follow a quick overview of what's contained in the Watershed Analytics Demo.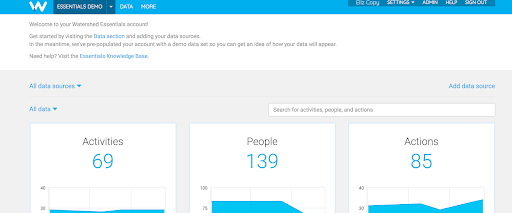 A couple of things to know about demo data:
1) It changes daily.
The demo data displayed within the analytics demo is updated nightly, so the data displayed within the reports will change each day. This simulation allows you to experience and investigate real-time reports and data as you would in in a real instance of a Learning Analytics Platform. After all, once data sources are connected, it's unlikely you'll have the same amount of total statements each day.
2) It doesn't affect your data.
The Watershed Analytics Demo is loaded from a separate, master demo instance run by the Watershed team. None of the data or reports within the Demo Dashboard will impact your account or your data. That means, anything you do within the Demo Dashboard is basically foolproof, so click away.

What you can do in this demo:
Click into reports to see detailed views.
Configure reports with "Explore."
View and modify advanced configurations in "Explore."
Download data tables and statements (in certain reports).
What you can't do in this demo:
Create new dashboards.
Save reconfigured cards.
Share cards.
View the demo data tab.
Connect data sources.
Manage organizational measures.
Access the settings panel.
Create, reorder, or hide cards.